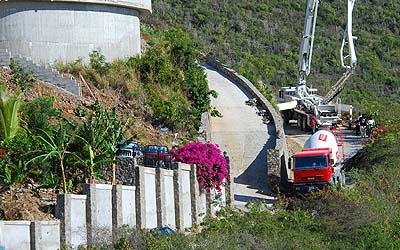 Residential Work
When we are called to a job, we can send our Road Supervisor to check out the job site for safety, available workspace and possibilities. The Road Supervisor will measure the pour and the quality that is needed for the job. Our Road Supervisor is there to assist you.
When you order a pump from us, it is our intention to dispatch the pump to your site with enough lead-time to arrive and set up the equipment, prior to the concrete arrival time.
We offer a broad range of specialty products and mixes to accommodate your specific needs.
Our technical department can design products to meet or exceed your specific project requirements. Some of these specialty mixes and products will need to be ordered in advance, so just tell us what you would like and we will get it.
See some of our specialty products here.
Maintenance
It is our goal to leave the area around the pump as clean as it was when we arrived. Our operators adhere to environmental precautions and standards.